It's never easy to get the best photos of my creations.  I take a TON of photos but in the end I'm usually pretty happy with the results!
Of course, once I get the photos then I have to wrangle with the colors to get them to look as realistic as possible!
Here are some photos of my latest Rag Bag made from recycled denim jeans.  If you'd like to see more, the pattern can be found here: Denim Circle Rag Bag.

I have to say I REALLY like the outdoor summer shots.  All the beautiful green in the background.  The grass, the trees…

It's not super easy to see in this shot but I REALLY like these new magnetic snaps!  You SEW them directly onto the bag!!!  How cool is that.  They're made from a soft plastic and there is a small channel to guide your stitches.  The plastic is very soft and easy on your needle.

Here's a more detailed shot…see the circular channels? You sew directly in the channels.  It's very easy and best of all, you can attach the snaps after you're ALL DONE with the purse.
I don't know about anyone else but I have DEFINITELY made a purse and realized after it was too late that I forgot to attach the snaps!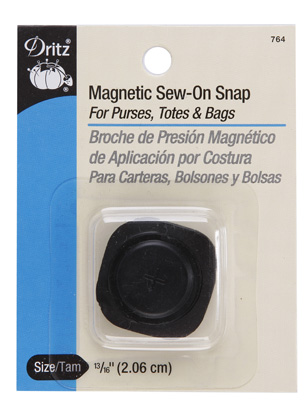 Here's a place to get them online for a really good price!
http://www.createforless.com/Dritz+Magnetic+
Snap+Sew+In+Square/pid144713.aspx